Pray For Our Country!


Message Board And Wrestling Forum
Providing Amateur Wrestling Information and Scores in South Carolina
SCWrestling.Com is a comprehensive information center for everything you want to know about amateur wrestling in the State of South Carolina

Scores, Results, and Information That You Add For Immediate Viewing!
Tournaments
Polls
Preseason Analysis-Returning State Qualifiers by School
I am looking for correspondants for 2003/2004 for each classification. Each will have their own report on their area and their classification.
Video Training Clips
Guess a wrestler or a former wrestler from the picture that is posted.
WUSA High School Boys Individual Rankings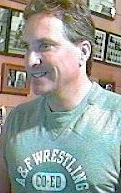 Send Email to me at: johnthomas@hotmail.com
To Fax Information: 803 932-0733
From the Capital of Lake Murray, Chapin, South Carolina
This site is updated everyday! But I was just here: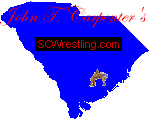 The SCWrestling.com's South Carolina SiteRing

This site owned by
John Carpenter
SiteRing by Bravenet.com
The Amateur Wrestling SiteRing

This site owned by
Rich Moran
SiteRing by Bravenet.com